By Ryan Siebert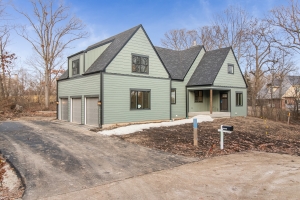 I'd love to be telling you that a late night bar fight turned into a great relationship with clients that we eventually built a home for.  That would be stretching the truth a bit.   My first meeting with that clients that would eventually build their home with us started at one of my speculative homes that we were trying to sell.  While touring the home their son tripped and ended up with a bloody mouth.  I assumed that would be the last time that I saw those clients and was thankful that they were not more upset with me.  Nearly two years later we ended up completing their custom built home in Burr Ridge.
The Process
Like anyone who wants to build a home the process starts out with the investigation period.  What does the home building process look like, what costs are involved, how will the financing work out, and can they afford it.  It can be very overwhelming and it takes a leap of faith.  No matter how confident that clients are in me, they eventually have to pull the trigger and start the process.  In this case the clients threw in an offer on a vacant lot and it was accepted.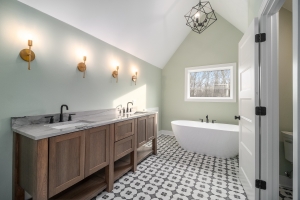 The Purchase of the Lot
We tell clients looking to build a home that finding the lot and making the purchase is the first domino to fall.  All clients want to develop the home and work the an architect right away.  Unfortunately, without a Lot there is no way an architect can develop a home.  We tell our clients to do their due diligence, make sure they understand what type of home they want, and then look for lot sizes that meet their criteria to build and stay within their budget.  All of the answers will not be in hand when the purchase of the lot takes place, but with those first few boxes checked we will make all of the rest happen.
Plan Set Development
With the lot secured we moved onto the development of the plan set.  This process, while fun, can be frustrating.  When clients are on a budget it is important to have an architect that says no.  In this case our architect let the home become too big and the costs were too much to build.  We were able to rework the plan set and put the budget back into the picture to get the building process started.  This is frustrating, as you can imagine.  Make sure you understand the type of home and the size of home that you want to build so that your architect can stick to your budget.  All architects are great at what they do, but it is your money you are spending. If you get into the habit of asking for more and more and more, then you need to be in the habit of spending more.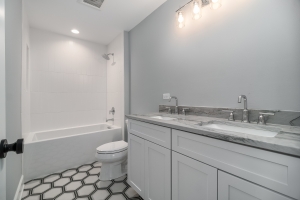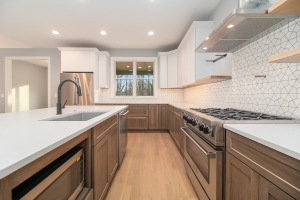 Another thing to learn from this process is work with an architect that can get the plan set developed quickly to help you cut your holding costs on the lot.  This will decrease time to develop the plan, and decrease your permit approval process, inevitably allowing you to save money by paying less holding costs until your home is done.
Building the Home
This was a very fun and unique project for the DuPage County Suburbs.  The lot was nestled in a cult de sac that was surrounded by trees.  Our client played Paul Bunyan and took the trees out on his own.  TIMBER.  By the time that we had the excavation completed and the framing up you could tell that this was going to be a very cool property.  The clients when with some very bold exterior colors to really take things to the next level too.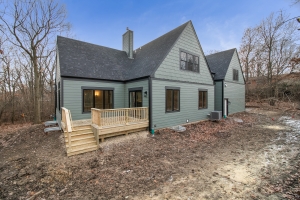 On the inside of the home we were excited about the layout on the main level.  We ended up with a double sided fireplace, that vaulted up to the second story from the family room side.  Details with trim work of added pine wrapped beams and a wainscoting fireplace detail really made things come together.  The main level was completed with white oak flooring and a beautiful kitchen design.   On the second level we were left with more ceiling details by framing things out to have vaulted bedrooms in the master, and two side bedroom areas.  This allowed the end product to be unique and give the appearance of extra space within each bedroom.
Hindsight is always 20/20
I'd be foolish not to reminisce on each project and figure out where we can get better as a builder.  On this project two areas stuck out that caused the build timeline to go from a 6-7 month projects to 9 months.
Pushing Selections – This falls both on us as a builder and on the clients.  The more custom homes that we build at SG Home Builders, the more that I value when clients use a designer for their selections.  Yes, using a designer adds money, but it also reduces stress, and keeps the project moving forward.  Without a designer on this project we were pushing for selections, often too late.  As a builder we have to do to a better job setting clear timelines for selections so we can avoid small delays that add up as the project moves forward.
Tracking Subcontractors – SG Home Builders is a project management company.  We have some of the best subcontractors in the industry, see our Iron Sharpens Iron article here.  Yet, they do not, nor should they, tell us when they have taken on projects with other builders.  When this happens and we are expecting quick results we get ourselves into trouble.  We have implemented better communication with our subcontractors to avoid being blindsided on projects delays.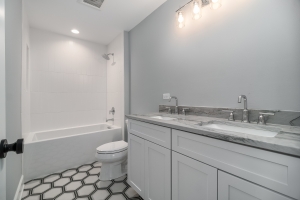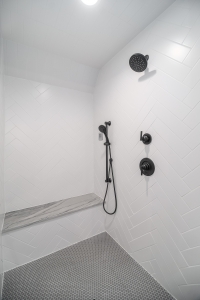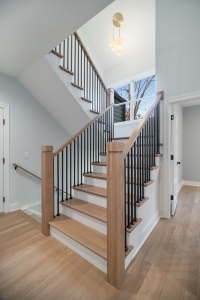 The Final Result
See the Video Tour Here:
Once again I am left with the realization that we not only built another house, but we were blessed to have great clients to work with.  This industry can be a royal pain in the butt sometimes.  When we are able to work with people that understand the process and work with us, not against us, it makes things fun.  In addition to building a home with us our clients also increased the size of their family during the process.  It was the third large project that we completed in 2019, and the third set of clients that had a baby.  Our demographic marketing search is now set for "growing families" in DuPage County 

.  If you are wondering, the little guy that busted him mouth open when we first met, he is doing just fine cruising around his basement on a 4 wheel toddler vehicle weaving in and out of the steel beams.