What to do in an Emergency Restoration Situation?
By Ryan Siebert
With all of the freezing weather we have had in Chicago and Naperville to start 2018, followed by massive snow and non-stop rain, it is no surprise that restoration companies throughout Chicago are getting calls all night and day. The question is, who do you call once the restoration company has made the needed repairs to stop the proverbial bleeding and start working on bring your home's beauty back?
While SG Home Builders may not be the company that you call at 2 in the morning when a tree hits your house, you are going to want to call us to make sure no details are missed when it's time to put the finishing details together. Today, I want to discuss with you the proper protocol for handling an emergency home repair.
This may not be as simple as stop, drop and roll, but the process should not completely derail you either. Below are three steps to take in the event you have an emergency repair to take on at your home.
1. Be Prepared
While you are doing your six month check in for your fire alarms, take an extra minute to make sure that you have a restoration company you know and trust in your contact list. It won't do you much good to have to make a call in the middle of a stressful situation and hope that Google gives you someone you trust. The reality is you will be in a panic and will be happy to get the first person that answers their phone to come and rescue you from your misery. A few weeks later you may realize that your "hero" took advantage of you and rode all the way to the bank with your emergency repair.
At SG Home Builders, we hate getting these calls. The reality is that we are not set up for emergency workers to come over at all hours of the night. However, we have our contacts ready in the event that our clients call us with something that cannot wait until the next morning to repair. It is a simple task to be prepared, but one that you need to do to avoid a lot of pain and costs later.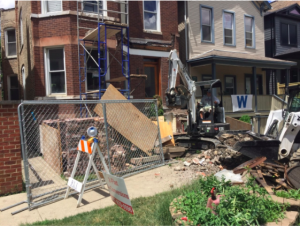 2. Understand Your Insurance Claim
Some clients think that because their roof had water damage in the kitchen area that it is an opportunity to remodel their master bathroom. Sure, you can try, but beware of the long term costs associated with unnecessary work on your home.
On the other hand, for larger claims you should also be cautious of your insurance adjusters numbers. Insurance companies are not in the business of giving away money. Be prepared to obtain additional bids from multiple companies to justify the cost of the repair work. For major restoration claims, you should not have to pay out of pocket for the costs of repairs above and beyond your deductible. Your restoration company will be happy to submit an itemized bid to you detailing what costs will be included, but that leads us to our last thought…
3. Be Patient When Choosing a Contractor
To clarify, be patient when choosing the contractor that will complete the project with precision and details. Yes, your restoration company that you were prepared to work with (see step 1) is an option, but they are a niche company for emergency and costly repairs. The odds are their finish crew does not specialize in detailed trim work, custom tiles, and designing options to make your home better than before.
Furthermore, the costs for emergency crews to put your finishes together will often exceed the costs of a contractor with skilled labor than can handle the details. I understand that you simply want to "get it over with," but take the time to obtain bids for what ultimately will be an unplanned custom renovation project.
Have fun with it, and know that the selections you are making today will help you erase a difficult memory in your home's life!