Chicago Custom Home Building
From an outside perspective, a Chicago custom built home isn't really custom. After all, most of the homes are built on lots that are identical 125X25 sized. How much of a custom build home could one really create? All that being said, custom home building in Chicago may be one of the most entertaining parts of our job as home builders.
The uniqueness of each home is often determined by the neighborhood's appeal and history. Some of the more established neighborhoods will require us to build homes that take on a classic look. This means that projects in Lincoln Park or Lakeview will require brick exteriors, limestone porches and often custom cut designs that are authentically one of a kind.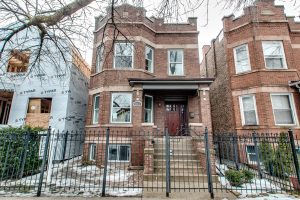 Other neighborhoods such as Roscoe Village and majority of North Center take on a suburban exterior with craftsman style front elevations. Still, the gentrified areas of Bucktown, Wicker Park, and majority of the 606 trail corridor will not let you build anything unless it has the modern exteriors that you would be hard pressed to find in the suburbs. So while a typical Chicago custom built home will be on a long and narrow lot, the similarities often stop there.
When it comes to interiors, you will find architectural pleasing designs that range from European finishes, to classic wainscoting and crown molding filled castles. The layouts of the homes can differ based on the custom home building owners lifestyle too. We have been a part of projects that take advantage of every last foot of space available to the lot, while others focus on the green space available on the exterior of the home, including adding rooftops to the home, and the garage top.
So the next time that you think Chicago custom home building is no different from house to house, think again. Feel free to call us to figure out what the value of your Chicago custom building will be after we complete your dream project.
Kitchen Remodeling in Chicago
While there may be standard sized Chicago lots, there is no such thing as a standard Chicago kitchen renovation. With narrow box shaped houses, the importance of designing a kitchen to meet you and your family's needs in is the most important aspect of your home.
We find that modern finishes and contemporary cabinetry versus traditional shaker cabinets are of high interest in most of our kitchen remodeling projects in Chicago. Kitchen cabinets that have flat front and shiny hardware give a modern aesthetic that is appearing more often.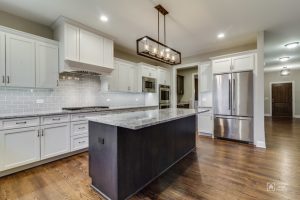 Our kitchen remodeling experts can discuss ways that you can blend your kitchen together with your family or dining room to provide an open flow. If you are living in a bungalow and no longer using your dining room space, ridding yourself of the separation wall to provide an oversized space into both rooms can be a great option. What kitchen renovation doesn't come without an island? With the extra space, you will be able to give your kitchen the perfect island.
From professional Iron Chef-esque designs to a co-habitant space for your family to entertain while preparing the meals, we can certainly help. If you are unsure what you want, or what is even possible for your kitchen, give us a call. Our team of contractors has renovated and relocated more Chicago kitchens than you can count. For finish selections and details, our team of local designers and cabinet makers can provide you will all of the options and specific items best suited for your space.
Basement Remodeling in Chicago
Finished basements are the key to maximizing your family's space. When you are living in a bungalow or a recently built home, a finished basement critical to maintaining your sanity during the long winter months of Chicago.
Most Chicago homes that were built at the beginning of the 20th century were not designed with finished basements in mind – Chicago basements typically have low ceiling heights. We are often asked to take down the current basement floor to the base of the existing foundation to allow the structural integrity to stay while adding an extra one to two feet in ceiling height.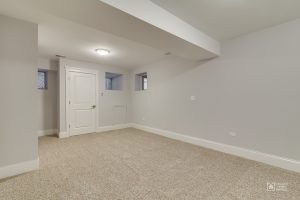 While this process sounds complex on the surface, it is not that difficult of a project take on. The challenge is the sheer manpower needed and, depending on your alley access, it may require you to tear out your existing garage for access.
After setting your ceiling height, the options for remodeling your basement are unlimited. We see many homeowners electing to keep their basement ceiling exposed, while other opt for the classic drywall finish while adding as many ceilings lights as possible. We also receive several requests for theatre rooms and bathrooms – nobody likes going up and down stairs during the big game.
Home Additions in Chicago
Ranch homeowners think that selling their home is the only way to get the space they need, but simply adding a second story can provide more than enough square footage for a family.
Many believe the simple lack of land makes these projects difficult to execute. However, knowing and understanding the local zoning requirements allows you to find creative solutions. Some additions require expanding your home's foundation, building above crawl spaces, and even digging out your existing basement to expand your home's space. Home additions in Chicago require critical thinking and an open mind.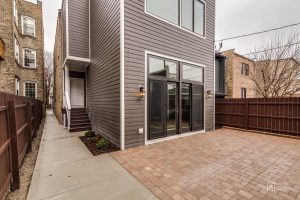 Our two flat single-family renovation clients often are making the decision to go with a home addition as the lot sizes are larger for original multi-family homes. This allows homeowners to avoid overpaying on a single family lot, while still giving them the option for a home addition.
In short, building a custom addition on your Chicago home is 100% doable for SG Home Builders. Our project management team has a wealth of experience working with the City of Chicago and some of the top architects and designers on home additions. From simple additions to complete redesigns, there is no project that we can't handle.
Bathroom Remodeling in Chicago
Your bathroom is one of the most important spaces in your home. With smaller lots in Chicago, you may think that a bathroom renovation won't make much of a difference to your home. With SG Home Builders however, we have the ability to make your bathroom epic.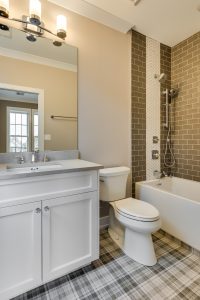 With unlimited tile selections available, we can transform a simple bathroom into a spa-like retreat with high-pressure power-flushing toilets. We can go as far as taking down walls and expanding your 5×5 bathroom into a 15X13 bedroom sized space. Our design team will give you the options to turn your dream bathroom into a reality. If you have the space and are willing to sacrifice other areas of your home, you too can end up with the stand alone tub, a car wash style shower, and separate "his" and "hers" vanities.
So, whether you are looking to get rid of an unused bathtub, or remodel your old bathroom into something modern, we can help you make the decisions that make all of the difference. Contact us to get started!