By Ryan Siebert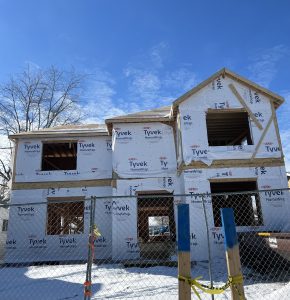 The last blog post I wrote was in July of 2020. It is no coincidence that I started focusing on my lending career at the same time.  As interest rates dropped into the 2.5 percent level for 30 year mortgages my 9-5 became consumed with loan applications and my focus on construction was just enough to keep the existing projects rolling.  Can someone say, "lack of capacity"? 
In 2020 we also lost our entire inventory of custom built homes that we had planned to build.  This was due to the pandemic and the start of rising prices.  SG Home Builders played in the $500,000.00-$750,000.00 new construction price point.  As pandemic pricing came prices for custom built homes increased 20-25 percent.  I spent most of my time doing estimates for clients that were as worthless as the paper I wrote them on.  Admittedly, I lost control and focus of the business. We have a very small inventory of renovation projects as we have moved full focus onto new construction homes.  This is due to the small margin on renovation projects.  Missing on 2-3 cost codes leads to a lot of work for a small return.  
It's nearly two years since that time.  I still sometimes feel the control of the business is as strong as a cliffhanger holding on with a slipping glove.  I figured now was as good a time as ever to give my perspective of the market today. Rising costs of labor and materials are still a focus, demand in custom home building is fierce, and for the first time since March of 2020 interest rates are rising, fast.  Let's dive in a take a look at how these factors are impacting the custom home building industry. 
Rising Costs – Labor and Materials
Inflation is the buzz word in any newsworthy update on the state of our economy.  This has been caused from a gluttony of money that our government has allowed to enter the market in the form of low interest rates and higher priced materials due to a lack of supply.  I wrote back in July of 2020, "The prices of framing materials has increased significantly, causing owners to come up with $3,000.00 – $5,000.00 in the span of 3-4 months for a new construction home in the 3,000 square foot range." I can only laugh and wish this was the price increase. Commodity pricing of Lumber went from $264 to $1,684 from March of 2020 to May of 2021. The cost of lumber for a 3,000 square foot home went from $25,000.00 to over $100,000.00.  Things normalized in the summer of 2021, but if you look closely pricing of lumber is on the way back up.  Lumber takes on most of the negativity of the industry, but many areas of the industry were hit with these rising costs, including costs of labor.     When I say I have little control of the business, this is part of the reason why. 
Timelines To The Moon
When clients ask me to put a timeline together now it is as if we both know I have no shot at being correct.  Building fluff into the timelines is easy to do but often not enough.  Supply chain issues put project timelines into a whirlwind and subcontractors have little change at correctly judging their timelines for projects.  Two weeks turns into three due to labor issues and when we are working on a 7 month project it is easy to loose a week once a month.  7 months plus 7 weeks turns into a 9 month project.  What happened?  Who knows.  I stress to my clients to make every design decision they can so that they can avoid making changes once the project starts.  Timelines upfront have increased when working with designers and architects to put the project together.  Guess what happens to nearly every project?  The bid comes in high, changes are requested by clients in order to cut budgets, plans are reworked, and bids are collected again. In the meantime, prices continue to increase and the process goes on and on.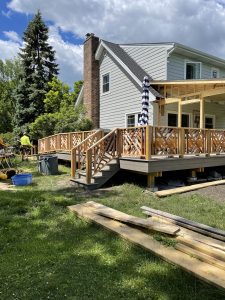 Demand Is Fierce
The real estate industry does a great job detailing the multiple offer situations that homes for sale are having.  Everyone has a story of triple digit showings in the first week and 20-30 offers on homes that hit the market. How are clients to move when they can't find a home to purchase in the first place? Their alternative is to build a new home.  Then we get into my favorite part of the business, the algebra.  By the way I love when I hear kids complain that they will never use algebra again.  I use it daily.  What are the costs of construction going to be to build your modest 3,000 square foot home?  What are the costs of land in the area you want to build?  What is your budget?  Do the numbers match? For those that can afford the costs they are put into a line that can take 12-18 months before they event start building plus another 12 months to build the home.  If you want to go down this rabbit hole, let's roll.  By the way, the company I write loans with, GO Mortgage, is a top construction lending company for Fannie Mae conventional loans ($647,200.00 and under in 2022).  I don't mix these two businesses.  You won't be using me to be your lender and builder.  However, I can tell you that majority of the inquires that we obtain with GO Mortgage are construction lending related.  Despite the rising costs of construction, clients prefer to build over buying existing due to an over inflated and low supply housing market.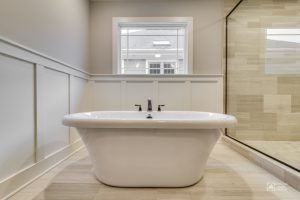 Rising Interest Rates
Since 1981 mortgage rates have seen a steady decrease.  Read that last sentence again to let it set in.  In 2020 and early 2021 we hit a bottom and rates have no where to turn but north.  As rates start making their turn north the housing market has rocketed up.  Clients are rushing to get in contract and lock their rate in.  RELAX everyone.  Rates are reacting to a lower supply of mortgage backed securities since the refinance boom is in a word, over.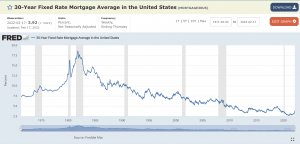 What other alternative do clients have?  Build new.  As demand continues to rise in construction pressure on pricing will continue to grow in all markets.
What Do We Know? 
The construction market has been reset in a lot of areas.  From 2020-2021 we adjusted and we will continue to adjust.  I feel more confident in pricing models today than I have in 2 years, but the reality is pricing models need to be adjusted more often than ever.  Having a builder that understands pricing and has control of their labor costs will give you, as the consumer, confidence to move forward with your project.  Be prepared for delays, they are inevitable.  Build yourself a contingency fund for price increases and buy as much material as you can upfront to lock your pricing in.  Simple enough, right?
Are you looking for more information about how you can build a custom home?  Call me and let's chat, 847-602-7641 or email Ryan@SGHomeBuilders.com.