The first few weeks of the Coronavirus may seem like business as usual for the construction industry.  The long term will impact in a different fashion.  Construction has been deemed essential, but new projects are being put on hold.  Some of the changes that may happen will as a result of this may be; lower interest rates, lower real estate values and labor pricing, and a delays in material.  This article will dive into these topics and help you understand how they could impact your future project.
Lower Interest Rates
I am not an economist, but I did stay at a Holiday Inn one time… In all honesty I did previously hold a loan officers license. For that reason I have a deeper understanding of how interest rates, specifically mortgage interest rates, are being impacted by the recent economical events.  Mortgage interest rates will continue to be driven down over the next 3-6 months. As most loan officers that have been in the game will tell you, this may be the last refinance opportunity you ever have.  As the graph from The Federal Reserve Bank of St. Louis shows, interest rates have been dropping for the last 37 years (https://fred.stlouisfed.org/graph/?g=NUh) (Graph from March 1981 – April 2020).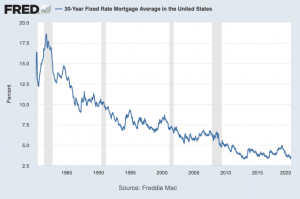 If you wait long enough they may pay you to obtain a mortgage, but I doubt that happens.  Their recent commitment by the Federal Reserve to purchasing mortgage backed securities (https://www.reuters.com/article/us-health-coronavirus-fed-banks/us-fed-hires-blackrock-to-help-execute-mortgage-backed-securities-purchases-idUSKBN21B3E0) will drive rates down further.  So what does this mean for you if you are thinking about building a new home or taking on a large renovation project?  It means if you are planning to use financing to fund your construction costs, the overall price of your project just dropped significantly.  Most homeowners have seen a significant increase in their home equity over the last few years and may be thinking about cashing that equity in with the lower rates.  However, you may want to keep in mind the impact on home values.
Lower Real Estate Values
Switching caps and putting my Realtor hat on.  Yes, I am a Realtor as well.  Values of homes will certainly be impacted in a negative way due to Covid.  By how much and when, I cannot speculate to tell you.  The biggest factor here is fear.  When we, as a society, become fearful we revert back to what is safe and what we know.  Those of us that are already homeowners will not be thinking about buying a new home.  Even renters will be more comfortable throwing another year of money into their landlord's pocket because they fear a 30 year commitment.  With less demand and a higher supply prices will be driven down.  My opinion and my advice to existing homeowners is to avoid the short term thought process of losing equity, especially if you have no intention of selling your home in the next 5-10 years.  If you can capitalize on the growth of your equity and fund your home addition or renovation project you will be capitalizing on interest rates that are amazing.  If you are looking to purchase a new home or land to build a new home, I preach patience.  Real estate values typically have a lag timeline before they are impacted.  In other words, it may take 2-3 months before values drop significantly enough to be able to take advantage of lower priced homes or land.  Timing the market will be impossible, but if you can be patient price drops will happen to existing unsold inventory that will impact short term values. 
Lower Labor Costs
From 2007-2015 my firm, SG Home Builders, successfully bought rehabbed and sold 500 properties.  "Successfully" being the key word.  From 2015 – 2017 we continued to buy, build and remodel homes, only we got crushed.  What changed?  Real estate values recovered, competition returned to the market (more investors), and labor pricing skyrocketed.  Part of my frustration as a custom home builder over the last few years has been the hockey stick growth in labor costs.  Let's step back and look at why? 
After the financial crisis in 2008 there was an exit of many laborers in the residential construction industry.  The crews that were able to withstand the last downturn are still around.  This doesn't scare them.   Add that to the fact that the construction industry was HOT and you may not see much of a decrease in labor costs.  According to this marketwatch article, New Home Construction was on fire, https://www.marketwatch.com/story/permits-for-new-home-construction-hits-post-recession-record-high-in-october-2019-11-19. If the lift occurs soon, say in May, I believe the residential remodeling and new construction market will be roaring through the summer and labor pricing will not be impacted from its current trend of increasing prices.  The labor shortage will continue to be a factor and allow pricing to trend higher.
Material Shortage
What about materials?  I can tell you that we are already experiencing issues with materials being delivered to the jobs site.  Some suppliers have elected to shut down during the stay at home act, and others will be forced to shut down due to infections in their warehouses.  The long term issue is that most of the supplies that we have on our job sites are purchased from warehouse distributers.  The actual fabricator of materials is done at an entirely different location. These larger fabricators of materials are slowing their production down to avoid flooding the market with a supply and decreasing their material pricing.  The challenge is that once deemed does start up again we will inevitably have shortages.  There is a great video on this possibility that you can watch here pertaining to lumber supplies – https://bit.ly/3ebUhT4.  A lot of the lumber fabricators have elected to shut their shops down now, and avoid a sharp decrease in pricing.  When projects are up and running again it will take time for suppliers to catch up with demand.  This will result in price markups or delays in materials to the job site.  Builders and homeowners need to make sure their pricing is confirmed and order as early as possible for materials prior to starting a project.
Stability is all most of us want back in our lives.  The inability to predict the future or know when things will go back to "normal" is one of the most frustrating parts of all of us.  Once that date has been established will be the time to attack, if you are a homeowner.  Home builders and remodelers will rush to fill up their pipeline as quickly as possible.  If this is short lived you should prepare yourself for delays in start times.  However, if things drag out until July/August, you will be in a great position to bargain your pricing.  Until then my friends, stay safe, stay healthy, stay positive, and have faith that we will all be stronger from this in the end.
If you have a possible project in mind, we are still working on putting bids together.  Please feel free to reach out to me to discuss your options, ryan@SGHomeBuilders.com.