As 2019 rolls on the bathroom renovation trends are starting to stand out. Our Naperville remodeling inventory is hot and so are the bathroom finish materials. This article will examine the top Naperville bathroom remodeling trends from SG Home Builders perspective.
Tiles, Lots of Tiles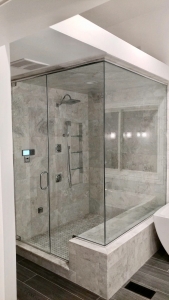 When I first entered this industry in 2007 the market was red hot. Even custom built projects were completed with bathrooms that had the most basic tile work and often a shower or two with bath fitter options to keep things simple and clean. Bathroom renovation work in 2019 couldn't be farther from those days. Today's design concepts include custom tiles and often 3 or 4 different styles and sizes of tiles in each bathroom. Shower tiles include the shower base, end capping, shower niches, shower walls, and even shower ceiling tiles if a steam shower is involved. Our bathroom renovation design team spends a lot of time making sure you tile selections and quantities are on site. We are also seeing an abundance of tiles added as decorative pieces behind vanities and stand alone bath tubs. The era of the stand alone tub by itself may be coming to an end with elaborate wall tiles behind the tub to further accent the tub, but not yet.
Stand Alone Tubs Still Reign Supreme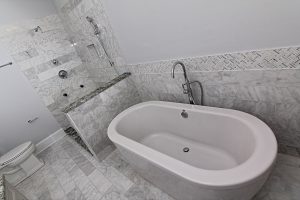 Our typical bathroom renovation in Naperville stars with discussing how to remove the old drop in tub out of the bathroom and give more openness to the space. However, our clients cannot give up the tub completely. Most our still electing to squeeze in a stand alone tub with the desirable intention to relax and take a nice candle lit bath at the end of the day. Hey, we can't stop them from dreaming. Gone our the drop in tubs and still here to stay for at least another year are the blast from the past stand alone tubs.
Showers are getting bigger and more functional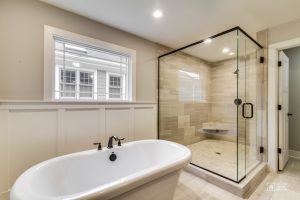 For those clients who realize the tub has no function or use there is the option for a bigger shower space. The old 3×5 shower space used to do nothing more than shower is no longer desirable. Now our clients want an adult playground of sorts fit with shower wall soakers, digital display boards, benches to relax on, steam showers, and built in refrigerators. Ok maybe I'm getting a little facetious about the refrigerator, there is plenty of water to stay hydrated after all.
Bathroom renovation trends will continue to change over time. Trends are guided by the state of our financial economy and the boredom of our humans minds always wanting something new and exciting. If you are looking to add flair and excitement to your home with a bathroom renovation I would love to partner up with you. Call or text me to discuss your options, 847-602-7641.