Kitchen Flooring Trends in 2018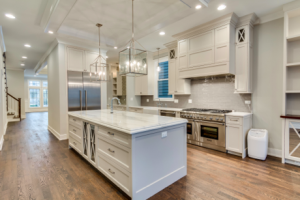 The gathering place, the chefs domain, where the memories are made, the kitchen. Oh how we love our kitchens! Today's kitchens designs are very particular. Today I want to talk to you about the kitchen flooring trends in 2018.
Tile and Stone Flooring
Ceramic tile floors are still very popular in kitchens. They're a very economical way to showcase your style and also bring a different blend color to your kitchen floor. What I like about kitchen floors that elect to use tiles is it allows you to have a nice classic stone feel.  I also like the different designs and colors that are available with using the tile floors. In the past everything had to have a nice neutral tone or a real natural stone or marble look to it.  Don't get me wrong, it looks great, but sometimes over abundance of colors going on with your kitchen cabinets, countertops and backsplash is overwhelming enough.
Another reason that I like the tile floors is for economic reasons especially when ceramic tiles are available in your style. A two dollar per square foot tile can be almost 1/4 the cost for hardwood floors. Also with ceramic tiles if you ever make a mess spill a drink or have a leak in your sink the cleanup is just a simple as a paper towels.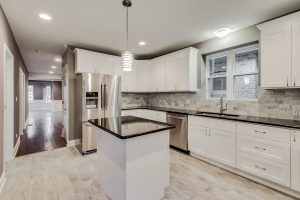 Specialty tiles
If you think using technology and flooring together in the same sentence sounds weird, you would be wrong.  Technology with tile flooring has made it such that vinyl and laminate floors are once again a choice and not just something you put into a slumlord rental unit. The waterproofing technology with high and vinyl floors today allows consumers that are looking to renovate or even build a custom home to select floors and have multiple color and design options. I love the way you can take something it is so light yet so durable and also have such a unique design in it. What's also nice about using this form of material is the cost of replacement, should anything happen, is very minimal. The one thing that I do caution about using this type of floors it to make sure your purchase an extra box or two should anything happen. Similar to tiles on the ceramic side, or marble, the textures designs and colors will change based on availability and based on the economics of developing the product.  So if you have an issue it's not as simple as adding new hardwood floors sanding and re-staining to match.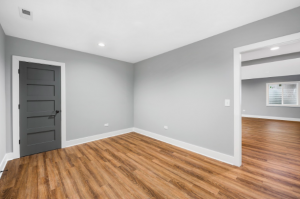 Hardwood flooring
For quite a while it was taboo to have hardwood floors in the kitchen area. Today that is not the case. Many of our clients that are looking at doing custom renovated kitchens are asking us to add hardwood floors from the dining room and family room area and into the kitchen space to blend rooms together.   This allows you to have that great room feel where everyone can be together. With open concept being so popular it's no mistake that hardwood floors are seen more often in the kitchen space. The kitchen is no longer a space that is hidden behind four walls allowing the chef to prepare all by her or his lonesome. Today we blend kitchen with our family room and often times our dining room is part of the kitchen and no longer a formal place.  Cleanup is easy for hardwood flooring, but bill stains or water leaks can be quite a pain. Especially hardwood floors that are sanded and stained. I myself had to find out with one of our clients in the past. Depending on when you strain your floors the color tone, even if it's the same exact bottle of stain with never set the exact some way.   If the area in need of repair is large enough you will need to re-sand and re-stain an entire floor. Let's hope that is the exception. Working with a builder who knows what they're doing and with the homeowner paying attention to their home avoids majority of wood flooring issues.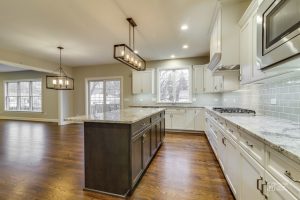 Still not sure which flooring is best for you?  Give me a call, I would love to help you design your perfect kitchen 847-602-7641 Ryan@SGHomeBuilders.com.