[av_one_full first]
[av_textblock size=" font_color=" color="]
Why is it so important that you get to know your builder before doing business?
By Ryan Siebert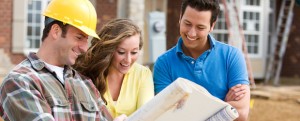 Pat yourself on the back, not only have you lived the American Dream to be a homeowner, but you have made the choice to build your dream home!  The next 6-18 months of building your home are going to be fun and exciting, but beware they will also be stressful.

That is why it is important that you have picked out a builder that you trust and respect from the start. If you didn't pay attention to the second sentence of this article go back and read it again.  That is right the next 6 to 18 months of your life the person that you will talk to most will be your builder.  Jay MCKenzie of New Home source gives a brief description of what you should be looking for from a home builder in the link to this article (http://www.newhomesource.com/resourcecenter/articles/ten-steps-to-select-the-right-home-builder).  The reoccurring thing to remember when selecting a builder is what type of relationship are you looking for?  
The sky's the limit – Some clients are looking for the most unique designs, groundbreaking layouts, customized architectural moldings, someone that will push you into something that you may not have even imagined possible.  Beware that this type of architectural design and construction costs will come with a price and a timeline that you better not be worried about.
Mr. Rogers Builder – If you are looking for the local builder with the connections needed to get your job done quickly, then you may want to talk to local Realtors and city inspectors, if you can get a hold of them, and get their recommendation.  
The Financial Wizard – If you are on a tight budget and do not want to be led astray then you may want to find a builder who will keep you on track.  Look for someone who presents details in their cost projections and has a game plan for your selection timelines that is already proven.  
At the end of the day that choice is yours, but it is always a good idea to figure out what it is you are looking for before you start your search.
---
For your own Free SG Home Builders "Consumer Guide to Building a Customized New Construction Home" contact us at Ryan@SGHomeBuilders.com or call 847.602.7641 or enter your information below.

[/av_textblock]
[/av_one_full]