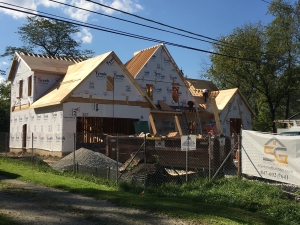 When prospective clients first reach out to us one of the first questions they ask is, "How long does it take to build a new home?" Honestly, it's a loaded question. Here's some factors that effect the timeline for building your custom home.
How big of a home are you building?
Commonsense says that the bigger the home the longer it will take. At this point I usually go into a conversation about the type of customization they're looking for in their home. Someone building a basic box of a home versus someone building a very intricate and customized home from room to room will make a big difference. In general size the home is going to determine the length of time that majority of our treatment will need.
How unique of a home are you looking to build?
Majority of today's custom home building clients are looking for similar traits. White farmhouse with black roof black windows. A craftsman style home with a big front door and a nice size porch. Even where you live often determines the type of home you can build based off the lot sizes. If you're looking to bring new style into your custom homebuilder the process is going to take longer. Yes, the plans tell us what type of home to build, but with custom home building this is the first and likely only time we will ever build this home.  For that reason, the more customization involved, the longer the process will take.
Define your start timeline for your custom home building process
When you ask about how long it will take, are you asking me about the time to build or all of the time it will take before we start?  There's a lot of lead time that goes into building your home before we even put the shovel in the ground for the first time. Have you found a lot to build on? Do you have a plan set developed? Have you completed the required surveys needed? If you are starting from scratch then finding a lot to build on can take 3-6 months before you own it. It can take 3-6 months after you own the lot to develop your plan set. Then it can take another 2-4 months to finalize your surveys and permits application. That's almost a year and a half and we still have not touched the dirt!
How long once we start construction?
When the first shovel full of dirt is pulled from the ground I advise clients to plan for 6 months to a year of construction. The pre-planning often takes longer than the actual building if your home. It's a very fun process that we enjoy, but building a home is for those who have time, patience, and a place to live while construction is rolling!
If you would like to discuss building a home with us, please email Ryan@SGHomeBuilders.com or call 8476027641.