[av_textblock size=" font_color=" color=" av-medium-font-size=" av-small-font-size=" av-mini-font-size=" admin_preview_bg="]
Best Tiles for a Bathroom
Majority of the Naperville bathroom renovations that we take on isn't because of the layout – it's due to the need for new bathroom tiles and wanting to find the best tiles for a bathroom. If you're lucky, you've had the privilege of taking a shower in an all blue bathroom with blue floor tiling and blue shower walls.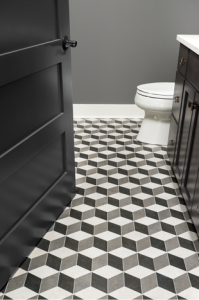 Today's bathroom renovations call of clean colors with or spa like stones. Which brings me to the topic of today – what are the best practices to use when choosing and installing new tiling for your bathroom renovation? 
The Construction Behind Your Bathroom Tiles
Changing out tiles in your bathroom isn't as simple as removing and replacing carpet. Often due to the caulking that's used for the original installation, major demo to the bathroom occurs.  Removing tiles from the bathroom walls and floors, which have been bonded together with mortar, results in the removal of drywall and, at times, floor boards. 
The resulting mess that's created means we need to take time to put the bath together before we can add the tiles to your renovation. Our bathroom renovations include many steps before we get to tile such as the demo, framing, insulation and drywall. 
We want to make sure that your bathroom is put back together correctly for long term success.  Would you believe that after the demo work on many of our bathrooms, we find rotten framing materials from previous leaks that you may not have known about?
Planning to completely demo your bathroom down to the studs, regardless of whether you're changing the layout or not, is often the best way to go. This is also a great opportunity to add new insulation to the walls for soundproofing. 
Next comes the installation of new drywall. A concrete board to the shower walls is required to give your new tiles a solid backing to hold onto. One final touch that we like to add to our shower walls is to waterproof the drywall before installing the tiles.
Although the tiles will protect your drywall, over time grout will deteriorate. Adding the waterproofing is one more layer protecting your walls from water damage. From that point, it's a few days of slapping the on the tiles, adding grout and Shazam – you have a beautifully renovated bathroom.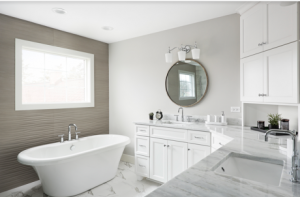 Find the Best Tiles for a Bathroom
Now for the easy part of bathroom renovations – selecting the best tiles for a bathroom. It's pretty simple: pick out a gray tile and call it a day. 
Not so fast!  Often times clients don't realize the complexity of tile selections. We're dealing with prices that can range from $2/Square foot to $20+/Square Foot.  It's important that you take the time to understand your budget to determine what price point that you'll be able to spend on tiles. Clients often get frustrated when they fall in love with a tile, only to find out that the cost per square foot is going to 2X their budget.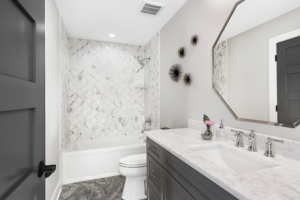 Another challenge with the selection process for bathroom renovations is the number of tiles that you'll need, especially if you're going to be selecting niches, shower pans, chair rails and deco tiles. All of the sudden your basic bathroom renovation calls for you to have 8 different kinds tiles in 12 different sizes. 
We recommend that you talk with a renovation contractor that understands what you're trying to accomplish and has the details on the size of space you are working with. We can't tell you how many times we get calls from clients that already have their tiles selected only for us to tell them that they're short on tiles and need to go back and purchase more. 
Here's the thing: tiles can stop being produced on a whim, so if you end up short on tiles you may find yourself with an almost finished bathroom renovation.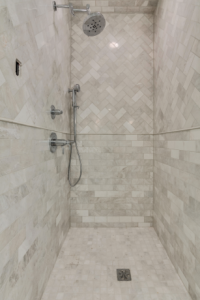 One other side note that we caution: when it comes to making your tile selections, clients often find themselves dumbstruck. The more elaborate of a tile design that you select, the more time it's going to take. The more time that it takes, the more you're going to pay in labor. Understand your options when working with your renovation contractor so you can avoid change orders after you have your heart set on a specific design.
The Colors and Stone
We leave color selection to the designers of the world. However, we will say that majority of the tile colors we work with are in the white, tan or gray family today. From an investment standpoint it's a great way to keep things neutral and avoid putting together a bathroom that a potential buyer will hate. 
From a customization level, it's always nice to see custom renovated bathrooms with tiles that are unique, bold and fun. When we build homes to sell, we always had more success with bathrooms that we customized. 
When using stone, it's important that you work with a contractor that understands the finish needed to the tiles once completed.  A natural stone in your shower looks fantastic and will give you the feeling of a Colorado resort each time you take a shower.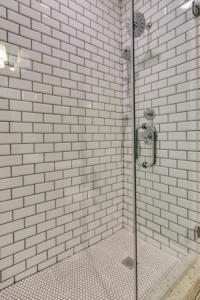 However, if the stone isn't treated after installation, and often maintained, you could end up with an expensive bathroom that'll be in need of re-work very quickly. My point is that paying for a higher priced tile doesn't always mean you're getting better protection. Do your due diligence and ask your contractor for recommendations before deciding which direction to pull the trigger.
Now that you know how many steps need to be taken when tackling your own bathroom renovation, are you still ready to pull the trigger? If so, we'd love to partner up with you, give us a call 847-602-7641 or email ryan@SGHomeBuilders.com, we would love to partner with you.
[/av_textblock]