[av_one_full first]
[av_textblock size=" font_color=" color=" admin_preview_bg="]
Framing Costs for New Construction
By Ryan Siebert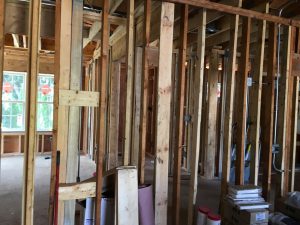 Imagine with me for a second that you are in a freshly framed new construction house early in the am on a cool spring morning.  The ground is thawing out, the sun is high in the sky with just enough clouds to make you appreciate the blue sky hidden in the background.  As you walk into the front door you stop and take a deep breath to take it all in and that is when the familiar smell of fresh lumber hits your nose.  I love that moment and I even get a smile on my face right now as I type this message.

Thanks for taking in the memory with me, as they say smell is the best way for us to recollect memories. You are probably wondering what does all of that freshly cut and framed wood material cost, and how do the framers calculate their labor?  You may be surprised to find out that the framing costs of your new construction home are typically very consistent regardless of who ends up winning the bid to do the work.  


Material Costs – Many custom home builders will utilize the services that the wood framing supply companies provide to develop your material cost.  In general they have the experience of reviewing the blue prints and deciding what materials need to be on the job site at what time.  This is a classic, "stay in your sand box" mentality.  Let the labor crews build, and let the suppliers supply.  What you have to understand is that builders are not going to get a better price on framing materials regardless of where they purchase from.  Pricing overall is very static when it comes to the materials used to build your home.  What builders want is a supplier that can communicate with the labor crews so that the job doesn't delay.  The change in cost for your framing material may be dramatically different if you have an abundance of steel used in the blue prints, and once again the sneaky ceiling height comes into play.  A 3,500 square foot home with 8 foot ceilings throughout will differ than a 3,500 square foot home with 10 foot ceilings, and a large vaulted ceiling foyer with a catwalk to the second level.  Keep these ideas in mind when comparing your costs to another home with a completely different floor plan.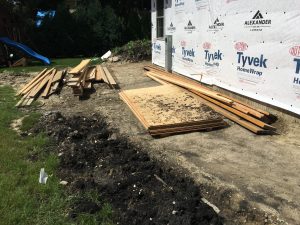 Labor Costs – A general rule of thumb is to plan on paying around $8.00 per square foot for your labor costs to frame your house.  However, if your home is full of archways, vaulted ceilings, raised levels from one room to another or the occasional hidden office, then you will be paying more. With custom homes framers are typically not building the same home more than one time, so they will build in a large contingency to make sure they are covering their butts.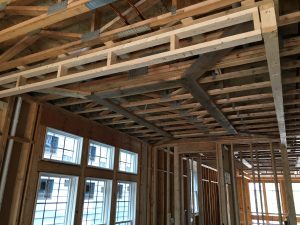 Front Elevation – A big factor to the cost and material of your framed house will be the front elevation.  Basic shaped homes with little texture variation or contrast will be easier to frame and same money on exterior soffits, facia, and roof line changes.  As you can expect, the more details, and eye appeal you can design the higher your framing costs will be.

In my opinion the architect really makes their money when the house is framed and the rough installation of electrical, plumbing and HVAC begins.  I look forward to explaining the details of each next time.

By the way, if you are not sure what the smell of a freshly framed house is then call me so we can walk through one of my homes that is currently under construction.
---
[/av_textblock]
[/av_one_full]