By Ryan Siebert
Whether you are building a multi-million dollar home or a $500,000.00 home there will be upfront costs involved.  Today I am going to break down those costs for Naperville and surrounding suburban areas.
Blueprints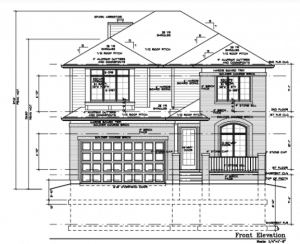 Before you are able to start your project you need to develop a set of architectural plans, aka blueprints.  All too often clients ask me what our cost per square foot is.  Read carefully, it is impossible to give an accurate cost per square footage number without a set of blueprints and a list of your preferred finish items.  Clients want to feel assured that the initial investment for their custom build project will be worth their time and money they invest.  The last thing that anyone wants to do is develop a set of blueprints and find out that they have designed a home that is out of their budget.
The investment into a set of custom blueprints starts around $5,000.00 and goes up from there.  Most 3,500 square foot homes run in the $12,000.00 – $20,000.00 range. The bigger the custom home, the bigger the fee will typically be.  Costs also have to do with the design specifics that are detailed within the plan set.  Towards the lower end of the price range you will end up with a plan set that is good enough for the permit, but lacks specifics. It will leave a lot of gray areas.  Higher end blueprints will include permit set requirements, tile elevations, trim and cabinet designs, flooring choices and even color choices. This allows you to avoid deviations once the project starts.  If you are lacking vision for your project I recommend paying more upfront to assure you know what you are getting.
Surveys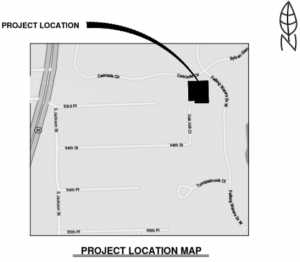 In majority of the Chicago suburb neighborhoods, custom home building requires site plans and topographic surveys too.  These details allow your homebuilder to properly set up your foundation, and bid out the excavation and drainage requirement costs associated with your build.  Upfront costs for your survey package runs in the $5,000.00 – $10,000.00 range.  There are surveys that will need to be completed before, during and after your custom build is completed.  The multiple surveys verify the site plan to build, specify where to build, and provide the final "as built" at completion of the project.
*As a side note we also recommend that you pay for a soil test before you purchase the lot you are looking to build on.  This is especially true in wet areas.
Permits
Last, but certainly not least, you will have permit fees to pay before we start on your project.  Permit fees are required to assure the home your builder is building is up to code.  Permit fees run in the $3,500.00-$15,000.00 range.  These fees typically cover the time the municipality takes to approve the plan set and inspections during the project.
When you add it all up, you are looking at a $20,000.00 – $40,000.00 investment on your part before you put a shovel in the ground.  However, we are only talking at 5 to 10 percent upfront investment for your entire project.  If you have a problem putting that kind of money upfront to achieve your dream home, then I suggest avoiding building a custom built home.
Find out the SG Home Builders Process to Custom Home Building Here!