By Ryan Siebert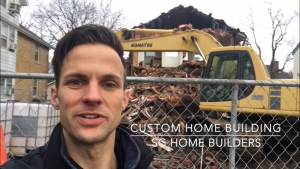 As a general contractor in Naperville one of the things that I absolutely cannot stand how messy the job sites can get. Whether it's a small kitchen renovation, a full master bathroom, a gut home addition or custom-built home, the process and start to finish can be a giant mess. This article will tell you why contractors are so messy.
It Starts With the Bid Process
Before you even start your project odds are your contractor is going to make a mess of things. I'm not talking about us walking on your house with our shoes on. I'm talking about the entire proposal process. I often find it comical when I go to a clients house to bid out a project for them and the first thing they say to me is they are impressed that I am on time. I know how difficult the day-to-day operations can be for contractors. Expecting a contractor to be able to predict exactly when they will be able to get to your job site is kind of a crapshoot. Before you get in a tizzy because your potential contractor didn't show up at the exact time they said they would, understand they're probably taking time getting the current project completed so they can make it to your house next.
Dust
OK this is a simple one but guess what? Construction has dust. Are you thinking about doing a kitchen renovation, it's going to be dusty. How about building a new house? It is going to be an absolute mess. Check out the video below if you don't believe me.

I cringe every time I walk into a job site and see piles of dust flying around. Especially the bigger projects with multiple subcontractors on site at the same time. One person screws a hole into a 2 x 4 and create a pile of wood dust. The next thing you know every contractor is walking in throwing their tools, leaving the wrappers on the floor, and creating a trash zone. Creating accountability for my subcontractors is key to helping keep our job sites clean.

Waiting Too Long for Final Clean
When the project is wrapping up we send in our cleaning crew to make the home sparkle and shine. However, I hate paying for the cleaning crew to come twice. What happens is that your brand new kitchen with custom cabinets and stainless steel appliances sits an extra week collecting more dust.  If you want your home renovation project cleaned sooner, be bold enough to ask.  Which is why I always tell me clients you should feel comfortable enough with me to let me know if there is any issue.  No one likes to see their home wait to be cleaned, but in construction messes are bound to happen. We encourage our subcontractors to leave the job site the way they would want their own home. The same goes for the quality of work, finish it the way you would finish your own home.
When you decide to pull the trigger on your next home renovation project be sure to ask your general contractor their cleaning policy to keep you from getting upset during construction over a little spilled milk.
Say, are you thinking of taking on a custom renovation project or maybe even building the home of your dreams?  We would love to partner with you.  Call or text me so we can set up a time that works for you, 847-602-7641.