By Ryan Siebert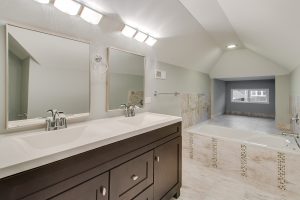 As a general contractor I find myself often and the dilemma of choosing the best subcontractor and making my clients budget work. Often times when building a custom home we have to make a decision that fits the clients budget, or we do not get the business at all. Today I'd like to discuss the importance Of understanding the types of subcontractors that your general contractor can utilize for your custom Naperville kitchen, bathroom, basement or new home build project.
"Wow, They Are Expensive."
The top-of-the-line subcontractors know their business hands down. Their systems are flawless, the quality is second to none, the communication is always spot on. Typically these subcontractors come with a full-time administrative assistant who keeps everyone organized. Their field operations reps are top-quality. They tell you how they're going to install, and do not wait for you to suggest how to get the job accomplished. Sounds great, right?  However, these crews have overhead to pay for.  In other words, these subcontractors are expensive. I've been in this business for over 12 years now and I have yet to run across a client who didn't pay attention to their bottom line for custom home building, regardless of their net worth. I'd love to use high-quality subcontractors for every single one of my traits but unfortunately the numbers don't always make financial sense.
"How Do They Do It For That Price?" 
Second level of subcontractors is the group that has not quite figured out how to run a business. They have the knowledge, they have the manpower, but they haven't figured out the organizational structure. This makes their prices competitive, but there is a lack of follow through. Whether it's systemization or they're just not quite ready to scale the business up, these subcontractors will be the ones that start off great and cannot complete the job.  This doesn't affect your bottom line for pricing, however, sticking to a timeline is not going to happen.
"I Got a Guy."
The unicorns of the custom homebuilder industry are the ones that are excellent at what they do and have a great price. The quality is top notch. These are rare and as I always tell my project management team when we find them we have to hold onto them and keep them busy. The challenge with these subcontractors, is they are often running a one man band operation. Using them on every project is not possible. Expecting them to know all the details of a complicated project is not going to happen. I often get a high-quality product with a great price, but a lack of order giving. Typically these contractors our order takers. That means myself and often my clients are going to be involved in helping make the decision of exactly what steps need to be taken to get the work done. When it comes to crunching numbers in creating a budget that makes sense these guys are great. However, if you need someone to guide you from start to finish your project I try to avoid bringing these guys on the job site.
Part of my job as your general contractor is to help you understand what is most important to you. Budget, quality, timelines? We do our best to give you all of those things, but often times decisions are made knowing what's most important to you so we can help make your experience one that you'll be proud of, and of course refer us for business.
Hey if you're looking to do a custom product of your own I would love to help you out. Whether it's a bathroom basement kitchen home addition or a full new construction house we are able to flex and help you with whatever project may be on your to do list. Give me a call or text my cell phone 847-602-7641.