When he comes to selecting interior trim for your home this simple little task can become very complicated. My custom building and renovation clients in Naperville know all too well what I am talking about. Today I want to give you a few tips on how you can take the bull by the horn and get your trim package selections taken care of and avoid a lot of stress.
Be Consistent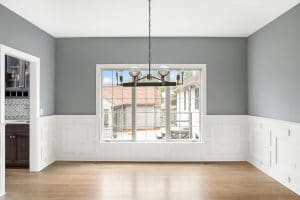 Many times stress with interior trim selections comes into play when you want to make different interior trim selections for different rooms. My advice is to keep it simple and be consistent. If you want 7 1/2 inch baseboards and your family room you should go with 7 1/2 inch baseboard throughout the entire main level. If you want to change things up do it by level not by room.  Also, if you want an elaborate interior trim package the material may not be in stock.  So be consistent with your selections to avoid lead time for material to be on site.
Use Elevations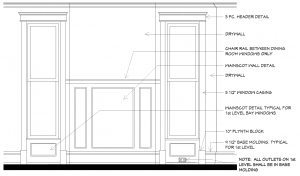 If you're not really sure or maybe you just don't quite understand the importance of interior trim I recommend you use a designer to provide elevations. It's always difficult is when I have a client who just cannot visualize the way they want things to be. In this case I highly recommend hiring the services of a designer who can draw your interior trim details room by room. This is also very helpful when it comes to bidding your project up front. With my bids we generally give an allowance for interior trim which includes baseboards, crown moldings, ceiling trims, wainscoting, doors and hardware. There's a lot of details in there that can't be over looked. If myself and my clients are not on the same page we need elevations so we can quickly make decisions to obtain proper materials on site and make sure our interior trim carpenters have the correct labor hours included for their pricing.
Understand Pricing
I think with every selection that you have for your custom home  it's important to understand pricing. I also understand it's very overwhelming. You are building one home and for me as your home builder to assume you are going to understand all the pricing is not fair. For interior trim it's pretty simple.  The more exotic, more specific or more custom that you want your product to be the more you will pay. There's also the type of material you want, which effects pricing. Most of my interior trim packages are built with MDF trim. It's a lot more economical. However, if you were someone who wants all natural hardwood product, understand you will be paying more. Interior trim fortunately does not move on the walls which is why I am completely fine using more economical MDF and my custom built homes.
Hey if you're looking for custom tips tricks or information on how you can custom build or custom remodel your own home. We would love to help you. You can email me directly Ryan@SGHomeBuilders.com