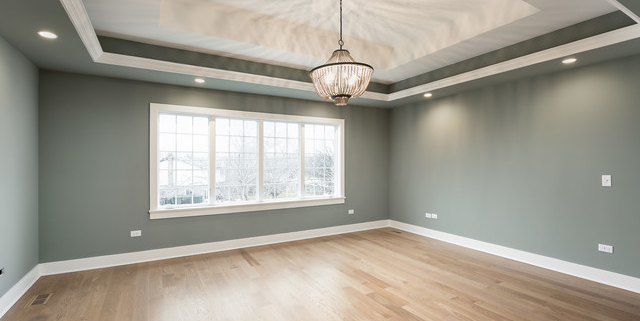 The Best Ceiling for Your Custom Renovation
For a lot of my Naperville renovation work clients are telling me they want open concept homes. That's great but with open concept you have to be able to designate areas using the ceiling. This can be done with light fixtures for the different textures for the ceiling material. Below is a list of different request that we get from our renovation and custom home building project.
Coffered Ceiling's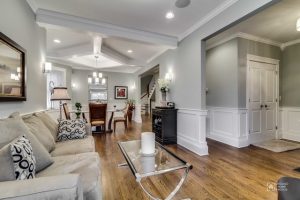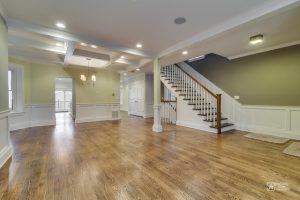 Coffered ceilings are very trendy and also take a classic look in appeal to them. We typically get clients are requesting the coffered ceilings to help define that open space. The dining room is a great place to use coffered ceilings.  The extra millwork and combined with wainscoting can give a very detailed look. The ceilings can come in different sizes shapes but the most popular comes and symmetrical squares. The cost for adding coffered ceilings vary in range. The reason for the range often times comes in the preparation and planning. If you are able to make the selection for coffered ceilings while you're home is still being framed then your builder can design and prep the area well ahead of time. This allows the builder to properly add electric and reinforce the area before installation. Where we see a lot of clients get frustrated is when they want to add the conference feelings after we've already installed the drywall. Hey, we are your contractor, but please do not kill the messenger.  This means we are now affecting electrical we are affected potentially plumbing and HVAC work but it's hidden behind the drywall. Most importantly we have to be able to reinforce those beams and secure them. Adding the coffered wood material over top of the drywall is not always the most efficient way to do it.
Tray Ceilings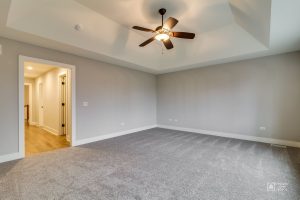 Tray ceilings give you more room added depth, or ceiling height. It's what we like to call a way of cheating to add height in your room. You often see this in bedrooms on the second level. Your ceiling height maybe only 8 feet but by adding a tray ceiling in the bedroom you were now raising the height to a 9 foot plus level. Added height gives the perception of a larger room and for you canopy bed lovers allows you to put that big bed up without having to worry about hitting the ceiling. The cost for adding a tray ceiling is very minimal. There are a little bit more particular ways to install the drywall, but overall the cost is very effective to your budget. You can add multiple layers to your tray ceilings like we did in one of our custom home building projects in Naperville in the picture below. I particularly love this as it shows the skills of our framers are electrician and our painters and carpenters all in one shot.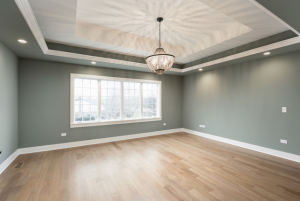 Vaulted Ceilings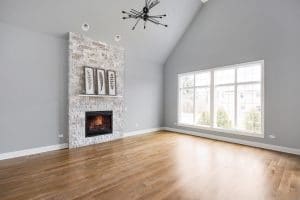 There are very few custom home building conversations I have with a client doesn't ask for a vaulted ceiling somewhere on their main level. It does make sense most of the grandiose houses that we grow up seeing on movies and television have an open huge ceiling space. The challenge I have with vaulted ceilings comes down to your budget. Using common sense and math, having a vaulted ceiling on your main level means you likely are not going to be on able to build any square footage above that space on the second level. As I often find myself telling my clients it's much easier on your budget for me to build up rather than to build wide.
Unfinished Ceilings
For some of my Chicago suburb clients they hate the thought of a main level unfinished ceiling. Often times we have a discussion with our Naperville finished basement clients about leaving the ceilings unfinished. This allows us to go after that industrial looking ceiling. Think of being in a restaurant or bar with the ceiling unfinished allowing you to see the duct work, electric, and any structural beams. The possibilities are endless with how you can design the ceiling to give yourself something very unique. I am a big fan of the rustic look and on top of the fact that it will save you money. By not paying for the ceiling to be finished and choosing to paint those beams and you can save between $2,000.00- $5,000.00 in your basement.
Who knows what the trend of ceilings will be in the future.  Maybe the main level will go away from the traditional white ceilings like you see in specialty rooms such a powder room or dining room. I don't think think we will see popcorn ceilings come back anytime soon or drop ceilings in the basement. At least I hope not.
More information about how to custom build a custom remodel space of your own. Please email me ryan@sghomebuilders.com. Thanks so much and have a great day.
http://sghomebuilders.com/wp-content/uploads/2018/07/image.png
428
640
Ryan Siebert
http://sghomebuilders.com/wp-content/uploads/2017/03/SGHomeBuildersLogo-900x250.png
Ryan Siebert
2018-07-06 00:23:34
2018-07-30 14:12:46
What Will The Future Ceiling Look Like?