Naperville New Construction Sales Report for November 2016
By Scott Wiley

By the time you read this report you may already be sick of winter.  The good news for those of us in Real Estate, especially in new construction sales, is that winter may be short this time despite the lack of weather and the mountains of snow we are supposed to get.  
The Naperville new construction sales report for November 2016 showed some interesting insights to what is going on with the market.  If you are looking for the hard and raw facts, scroll down and view the graphic data provided.  For those of you looking for a little bit of insight to this data, here are my thoughts this month.
Overall the market for new construction sales in Naperville was consistent, boring right.  Analysis of the data and the power of hindsight always being 20/20 shows us the the spring market for new construction sales was on fire.  Close to 25 transactions closed in June giving consumers and builders a confidence they had not felt in years.  The confidence was unfortunately short lived as the sales numbers since June have been consistently 8-12 a month, November included.  What I find interesting is that in 2015 the average number was in the 3-7 per month range, so we have to take time to celebrate the growth in activity over the last year.  I'll leave you with one final thought on the number of contingent new construction Naperville homes in the past few months.  Since activity bottomed out in August contingent sales (homes under contract to close in the near future), have increased.  I suspect that even in December we will see growth in contingent sales.  It is my opinion there is a pent up demand of buyers that have been waiting for optimism in the economy and a swift kick in the rear from rising interest rates to get off the fence and become home buyers.  The election results may be enough to kick start an already consistent market and cause spring 2017 sales numbers to look very strong.  Only time, and my crystal ball, will tell.
Average Sales Price of Closed New Construction Sales In Naperville (January 2013-November 2016)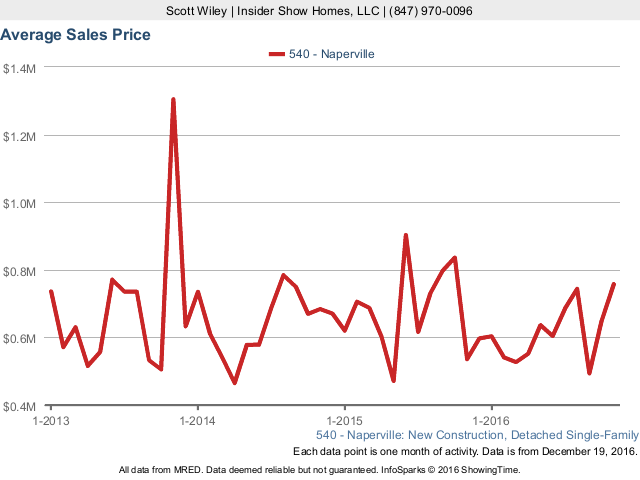 Contingent Contracts Accepted for New construction homes in Naperville January 2015-November 2016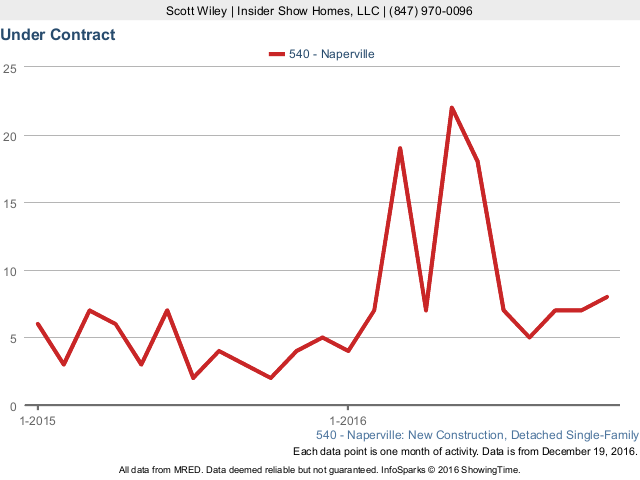 Closed Sales in number of new construction sales in Naperville January 2015 – November 2016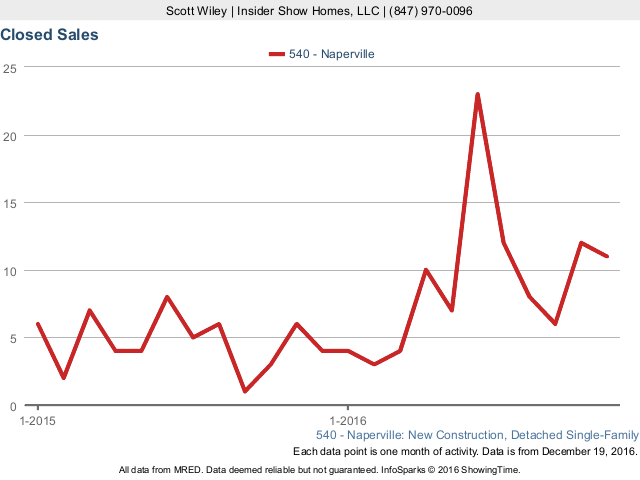 Scott Wiley is a licensed Realtor with Insider Show Homes.  To contact him directly please call 630.248.6271 or email Scott@SGHomeBuilders.com.
---