What is a HERS Rating?
We're often asked why some builders are able to make their homes very cost efficient. It is not always about the high end cabinets or the fancy steam shower for some customers, but rather the energy efficiency associated with your home's utilities. When it comes to assessing the energy efficiency of a home, HERS ratings are the industry standard.
"HERS" is an acronym for for "Home Energy Rating System." A common theme you will find when researching HERS ratings are the similarities to a Miles Per Gallon rating on a car. The idea is that the better your HERS rating, the lower that your utility bills will be in your house. Lower bills means that you will have more cash to spend on that finished basement.
HERS ratings allow builders to justify their ability to put together not only a well built home, but a home that followed specific guidelines to allow for a better score. HERS ratings go from 0-150 with lower scores being better. The lower the score, the less energy is needed to run your home.
How are HERS Ratings Calculated?
HERS ratings are calculated by a licensed expert based on multiple contributing factors of your home's energy efficiency. This does not mean that building your home with dozens of solar panels will give you a high HERS rating, but it will certainly help.
A big factor in good HERS ratings is following the proper procedures to wrap the envelope of your home. The idea is that your home produces the most energy maintaining a comfortable temperature. For those of us in Chicago, we understand that temperatures can range from negative in the winter to 100+ degrees in the summer. Large swings in weather means your has to work hard (consume a lot of energy) to keep internal temperatures consistent. Eliminating as many air leaks as possible throughout your home can make a big difference in energy savings and better HERS rating.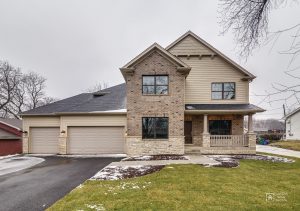 This does not always mean that you have to spend more money to keep your home better sealed. However, achieving a better HERS rating requires the consultation of a knowledgeable eco-friendly development company to review your architectural plans before building. Eco Achievers, for example, does a great job of implementing consulting services and HERS ratings to verify your home is built with efficiency in mind from the start.
Why Does it Matter to You?
HERS ratings are not mainstream to all homeowners in the Chicago and Naperville area today. However, putting your home in position for success early on will make a big difference as these assessments become more prominent in the future. In some markets, appraisers are starting to assign higher value to homes with good HERS ratings over homes with poor ratings.
You may still end up opting for a steam shower and second wine fridge, and that is perfectly fine. When making decisions about your remodeling or custom home building project, it is important to evaluate all of your options.